Stand Up For The Cure
I'm so excited to attend the 2015 Stand Up For The Cure event in Newport Beach, CA. Paddle boarding is one of my favorite workouts and also happens to be a great way to release stress.
Join me THIS Saturday May 2nd, 2015 in the Stand Up For The Cure paddle boarding race to raise money and create awareness for breast cancer. You can still attend this even if you're not racing or if you're new to paddle boarding.  This event will be a great way to experience the hype of paddle boarding and the friendly community.
The Stand Up For The Cure event is a time to have a blast, while standup paddling (SUP) around Newport Beach, CA and at the same time raising awareness of breast cancer. Every $125 we raise may save a life by enabling a mammogram!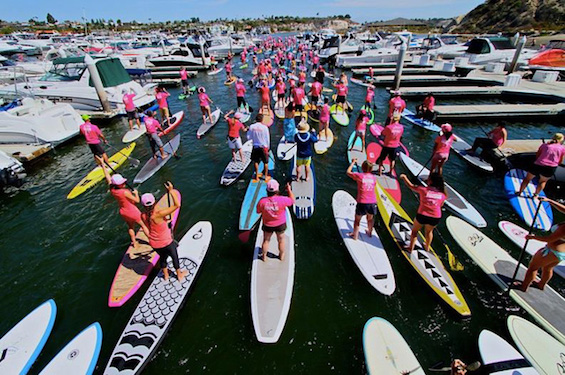 I'm raising money for this organization. My goal is to raise $1,00.00 and I would love your support!  Please click the link below and share the love. Any donation would be wonderful $100.00 or $5.00, whatever you feel comfortable with giving. To donate, please click this here!
I encourage you to act on what you are passionate about and find a way to give back. The act of giving back is the act of love in motion, a circular effect that shows what you give you receive.
The Stand Up For The Cure has two different races, so chose whatever one sounds good to you: a 2.5 K or a 5 K. Fore more details and to register for the race, click here.
Step out of your comfort zone and come cheer all the racers on, support breast cancer survivors and make new friends. You might even pick up a new hobby for the summer and fall in love with paddle boarding.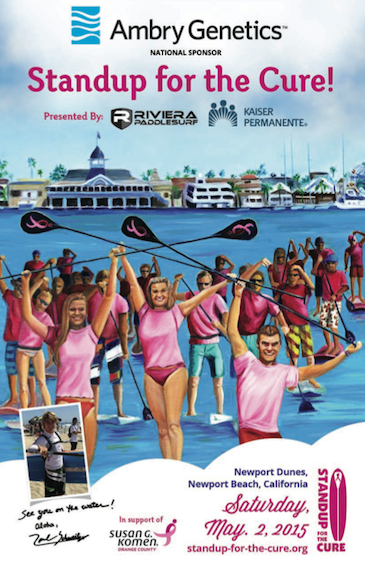 For myself setting fitness goals and entering competitions and/or races that bring awareness and raise money for organizations that I'm passionate about helps to keep me inspired and motivated to workout and live a healthy lifestyle. Last year I taught a yoga class and raced to bring awareness at the LA Waterkeepers Race in Malibu, CA.
I was also privileged to join ProSup Shop and an awesome group of warriors as we Paddle Boarded from Palos Verdes, CA to Catalina Island, which was a total of 22 miles. The following day we participated in the Catalina Marathon, and may I add, we hadn't trained for this, we couldn't believe that our bodies made it! There were times that the thought of giving up may have crossed my mind but I knew that this was for the greater good and we would finish this as a team. On the third and final day, it was back on our boards to Palos Verdes, yes another 22 mile adventure! That's right, I survived. You can check out my blog here.
Thank you so much for your support! Let's have fun and I hope to see many of you there.